THE EMPOWERED TEAM
A Future of Work Think Tank
Start reading
How we work today has changed drastically over the past few years, but how does it affect you? Within this page we invite you to dive deeper into the future of work data, expert interviews and insights that we've gathered for you from Clockify, Pumble, Plaky and beyond.
Remote Work Statistics
POWERED BY
Employees tell us what they want from the future of work: is it remote or hybrid? They also tend to be heard and have flexibility.
Major shifts are coming, so be prepared with relevant data from Pumble's remote work statistics.
97% of people would recommend remote work to others.
Highly educated employed adults with higher incomes are more likely to work remotely.
Since 2009, the number of people working from home has increased by 159%.
One McKinsey report indicates that 80% of businesses use collaboration tools to enhance their business processes.
Remote roles on LinkedIn attract almost 3 times more applicants than on-site roles.
By 2025, Millennials will make up about 75% of the global workforce.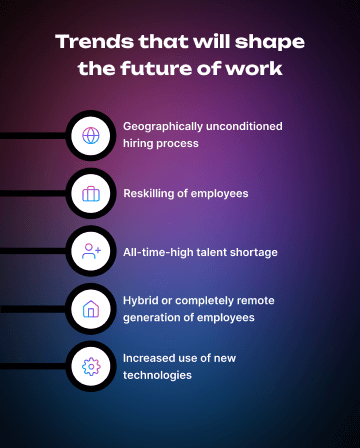 #myworktoday
remote & hybrid experience
See all
Remote
My remote work has given me flexibility
The pandemic has accelerated the move to flexible working. The move from presenteeism in an office means that I work more from home or where I need to be — whether it is seeing a client in Bristol, Southampton, London, or Edinburgh.

There has been a shift in culture, but this isn't just for the benefit of employees but employers too. The single 20,000 sq.ft. costly London office is no longer necessary — instead, a smaller central office along with several satellite offices scattered across the country is the workplace strategy for many businesses.

For employees, this means they can enjoy a better work-life balance — from being home for bath time to being able to afford a home because they aren't geographically restricted. For employers, this means fewer outgoings along with accessing new talent.
Remote
My remote work has given me the freedom to make choices.
These are both daily choices around my schedule, and high-level choices like choosing where to live.

I can wear what I want, work from a coffee shop, run errands without stress, or go to another city on short notice. Two of my three kids were born right into this "remote work" lifestyle.

As a double thrill, we help our team members exercise the same freedom. This is the next-level kind of joy.
Hybrid
My hybrid work has given me more time.
Broadband has enabled us to plug in and work from anywhere — as long as there is good connectivity. I split my time between offices in Southampton, London, and working from Tunbridge Wells, where I live — hybrid working means that I have more time because I travel less and live more.

Hybrid and flexible working has always been a superb idea, but we haven't had the infrastructure to support it — the pandemic has given businesses the confidence to embrace technology and change their culture. Moving forward, fast, reliable, and secure connectivity is enabling this to continue for many individuals. Hybrid working is also a business perk in the competitive job market and is supporting the leveling up agenda.
Remote
Remote work has given me the ability to be with my family.
I do not stress about my available leaves and taking a sudden day off just because my toddler got sick. Moreover, I do not need to work longer hours because of a 'busy season' or because someone decided to schedule an all-hands meeting after the work day ends.

Furthermore, remote work has given me independence and a stress-free work environment. I can decide my working hours, schedule calls only if required and according to my schedule, scale up or scale down my work during a given period of time, and not be bogged down by office politics or the need to please other people.
Remote
My remote work has given me freedom.
That's the best thing about working remotely. I don't have to worry about spending hours in traffic or hoping that public transportation will not be late this time. As a result, I have more time for my hobbies, passions, and self-development — which are essential to who I am and want to become. It also made me more productive.

Back when I worked in an office, I wasted so much time just chatting with my co-workers, drinking coffee, and slacking off. Now I'm focused only on my work, which brought exceptional results for the company I work for and my personal goals.
Remote
My remote work has given me the possibility to connect with people from all over the world.
Whether it's with my team (distributed across all 4 time zones in the USA), partner collaborations, or once-in-a-while ClickUp meetups, I have more opportunities to expand my horizons. I love being able to work from my home office, where I have a very nice view of the Mississippi River and downtown St. Paul.

Remote work has also given me the freedom to work from wherever. For example, when my wife, a concert violinist, has performances out of town, I can be a supportive husband and travel with her, while I work in different environments. This variety helps me bolster creativity and productivity, which is just a positive thing on all fronts!
Remote
My remote work has given me freedom of movement.
I've been working remotely for the last 5 years and I enjoy the fact I don't have to stick to a certain place or follow a boring routine. Instead, I travel, explore new cafés, and meet new people — during my most productive work hours.

I don't have to stick to a schedule unless there is a work call — all I need is good connectivity. Works best for an ambivert person like me to choose if I want to stay indoors or just go out and be there.
Remote
My remote work has given me a great deal of fresh perspective on my professional life.
While I can manage work and personal life side by side, I realized I can effectively do more work

at home than in an office. The perks also include being able to interact with coworkers from all across the world as my company employs global talent.

This helps in learning and respecting different cultures — and, as a result — incorporating these learnings into our marketing activities. Of course, the best part is that I save up so much on extra costs, such as getting lunch outside the home, fuel expenses, etc.

Remote work has allowed me to expand my professional goals, and there's no other way I would choose to work than this.
Hybrid
My hybrid work has given me the sweet spot between the completely remote and completely on-site modes of work.
Personally, I prefer to work from the office most of the time as it's easier to disconnect from work once you're finished. There's something in the physical act of entering and leaving the office that sends a signal to your brain that the work is over. Plus, the office is huge and bright, which is great for mood and creativity.

On the other hand, when I'm not feeling great, the weather is terrible, or I have a day filled with back-to-back meetings, it's much easier and more comfortable to stay and work from home.
Hybrid
As someone who started working while enrolling in the final year of studies, a hybrid way of working and flexible working hours have given me the chance to balance studies and work.
This way of working is a great opportunity for young people, like me, to gain work experience even though I am still a student. Hybrid work allows me to work from anywhere, and to travel more, but most importantly, I get to spend more time with family and friends.

However, sometimes I miss my colleagues and members of my team, so I like coming to the office. Working in an office is a lot of fun, we play foosball (and no, I'm not good at it, but it's fun), talk to each other, and have lunch together. As much as I have fun when I come to the office, I'm also working equally hard because I am surrounded by people who are constantly striving to work on themselves, who give you support and always try to help you, even though it may not be their field. A hybrid way of working allows me to achieve all my goals and spend more time with my loved ones, and as a result, I am more motivated and productive at work.
What do remote employees want?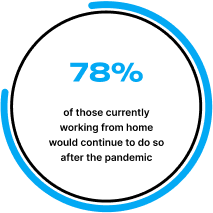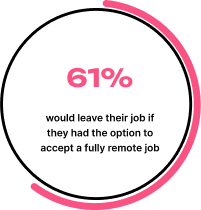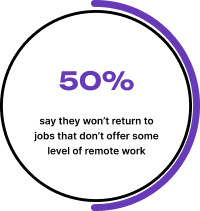 What are leaders planning to do?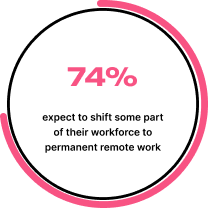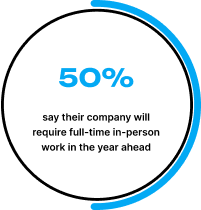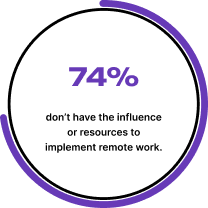 Video talks
See all
EP 02: How will Al impact the Future of Work
Will AI make us better and faster at what we do and should companies prepare their workspace for the impact of Al? Also how employees all over the globe will adapt to new technologies and at the end of the day, what could be the purpose of AI?
In our second episode of "Future of Work Talks" we discuss all this with Iwo Szapar (Remote-First activist and founder of Remote-how), Jim Kalbach (Chief Evangelist at MURAL and noted author), and Jermaine L.. Murray (Career coach and tech recruiter at JupiterHR).
Play now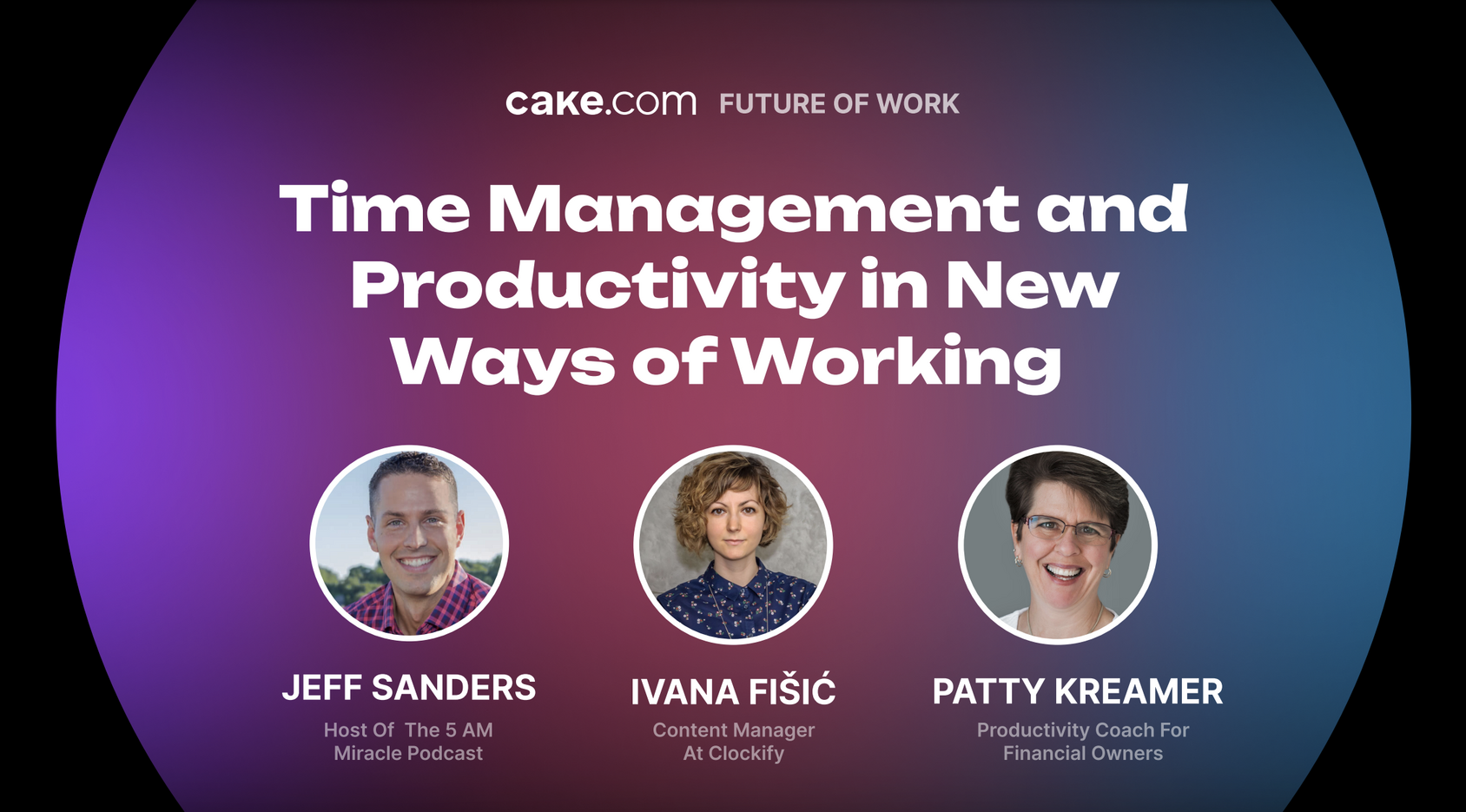 EP 01: Time Management and Productivity in New Ways of Working
What are today's challenges in time management, for individuals but also for teams? Which productivity hacks can save us time?
In our first episode of "Future of Work Talks" we discuss all this with Patty Kreamer (Productivity Coach), Ivana Fisic (Content Manager at Clockify, time tracker tool), and Jeff Sanders (Host of the 5AM Miracle Podcast).
Play now